1635 N. Bayshore Drive
Miami Beach, Florida, 33132
United States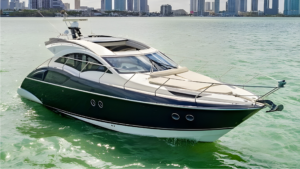 43' Marquis "Jolly Good"
The styling is sharp if a bit futuristic, with everything from the backrest of the bench-style helm chair to the corner moldings on the full-beam, hinged and bi-folding glass doors comprised of rigid angles, as if the interior designers had been inspired by the angles of a honeycomb. But unlike a beehive, the 40 won't feel cramped, especially in the saloon, thanks to the open, flowing feeling that results from the combination of the 6'6"x11'3" retractable sunroof and the aforementioned glass doors.
Pricing & Packages
Half Day
Prices starting at
$2,500
Full Day
Prices starting at
$3,500
Others
We also offer overnight and hourly rates.
Call for information